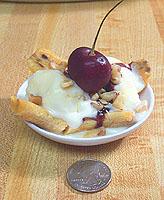 A banano split is like a banana split, but smaller. It started out with my quandary of what to do with a big bunch of baby bananas, all of which ripened simultaneously. OK, it's not a bento recipe, but I'm posting it anyway. So there.
What you need for each split:
1 baby banana
2-3 tablespoon scoops of ice cream
chocolate sauce
crushed nuts
a cherry, if available
a small bowl or dish - I use a dipping sauce dish.
Peel the baby banana, split it lengthwise, and put it in the bowl. Using a tablespoon, scoop out two or three scoops of ice cream and put them between the banana halves. Drizzle chocolate sauce and then crushed nuts over that, and finally stick a cherry on top of it all. There ya go!