This is my mother's Greek chicken. That means it's gotta be good.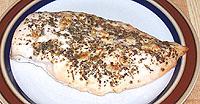 What you need:
boneless chicken breasts, one per serving
softened butter or margarine
fresh garlic, chopped fine - 2 cloves per breast
Italian seasoning (or other seasoning, as you wish)
vegetable oil
Preheat the oven to 325. Grease a baking dish with the oil, then lightly oil the chicken, just enough to keep it from drying out while cooking. Spread the softened butter or margarine over the meat - it's fine if it's uneven and lumpy, it's going to melt anyway. Scatter the chopped garlic over the chicken, then sprinkle the seasoning until you get pretty good coverage, see the picture above. Bake for 20 minutes, then move to the top and broil for the last 10 minutes to brown the meat.
If you use non-boneless chicken breasts, up the cooking time to an hour (50 min. baking, 10 min. broiling).