Iridori is a chicken & taro & vegetable stew, with konnyaku for texture variation. You can add other vegetables to suit your taste; I'm listing the ones that I use.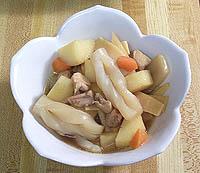 What you need:
2 boneless chicken thighs, cut into bite-sized chunks
1 large peeled carrot
1 package of konnyaku
about 2/3 pounds of taro roots or red potatoes
about half a cup of canned bamboo shoots
2 tbsp of vegetable oil
1 1/4 cups of dashi stock (water with hon-dashi powder), or water

For the seasonings:
5 tbsp of soy sauce
2 tbsp of sugar
2 tbsp of mirin
2 tbsp of sake
Cut the carrot into 1/4" coins, or if you feel fancy cut it into triangles by tilting the knife slightly diagonal and rotating the carrot 90 degrees between each cut. If you're using taro roots, first scrub them with a potato-scrubbing brush to get rid of the fuzz, then peel them with a regular peeler, and finally cut them into bite-sized chunks. If you're using new potatoes, peel and cut them up in the same fanhion. Cut the bamboo up into bite-sized pieces.
Boil the whole slab of konnyaku for a minute, then drain and rinse it. After it cools down, slice it into quarter-inch-thick strips. Cut a slit down the center of each strip, leaving 1/2" connected at the top and bottom, then push the top of the strip through the slit to make a twirly pattern. (See above picture.)
In a deep pan, heat the oil and stir-fry the chicken until it turns white. Add the carrot, stir well, wait a minute, then add the konnyaku. Stir well, wait another minute, then add the taro or potato, follow the same pattern for the bamboo and anything else you'll be adding.
Add the water or dashi and raise the heat. Let it boil for 3 minutes, then turn it down to a simmer. Mix all the seasonings together if you haven't already, add that to the pan, and stir. Then cover and simmer, stirring occasionally, for about 15 minutes. When the taro or potatoes are soft, take the pan off the heat and serve.