Making naan was a leap of faith. I've never had naan, or if I have I don't recall it, but I remember a friend posting about how good it was, and I found a recipe that looked interesting, so... why not?
What you need:
4 cups of all-purpose flour
1 tsp of baking powder
1/4 tsp of baking soda
1 teaspoon of salt
1 beaten egg
6 tbsp of room-temperature plain yogurt
3 tablespoons of butter (or ghee, if you have it)
1 cup of lukewarm milk
a little vegetable oil
a little olive oil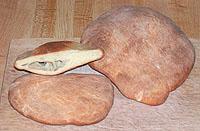 (I tried making this dough with my bread machine, and the result was utterly flat, dense slabs of bread. I think the heating stage took all the rise out of the baking powder & soda. So, I recommend making this by hand.)
Mix the flour, baking soda & powder, and salt in a bowl. Mix in the egg, yogurt, and butter or ghee. Pour in 1/2 of the cup of milk and mix; add the rest, a tablespoon at a time, until the mix balls up. Put the doughball on a floured working surface and knead it until it becomes smooth and elastic. If the dough is too wet and sticky from overmilking, let it soak up flour as you knead it until it reaches the proper texture. Lightly grease a bowl with the vegetable oil and roll the doughball around in it until it is coated with oil, then put a damp cloth on top and set it aside somewhere for two hours.
Preheat your own to 400. Dump the dough out onto a floured working surface and knead it for a few minutes more. Tear it into eight pieces (or more or less, depending on what size you want your units of naan to be), roll them into balls, and then flatten them with a rolling pin into tortilla-thin discs. Brush the dough discs lightly on both sides with olive oil and set them on a greased baking sheet. Bake them for 6-10 minutes, until they get puffy and start to brown on both sides.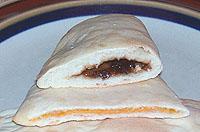 Let cool, then serve. Feel free to tear them into chunks rather than being all polite and using a bread knife! If you refrigerate these they can get brittle; microwaving them for 10-15 seconds will soften them again.
I've also made these with bread flour and cooked them for 20 minutes. The result, as shown in the second picture, was thicker, chewier flatbread that I wouldn't call authentic naan, but I would call delicious.
Another variation is stuffed naan, as shown at the right. Just roll out some naan, put the filling on one half, then fold it over - pressing down from the center out to avoid trapping too much air inside - and seal the edges by pressing them together firmly. So far I've tried shredded cheddar cheese, anko, and brown sugar & raisins. The latter was especially nice and desserty.