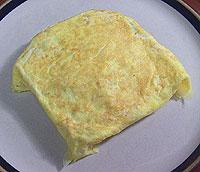 You got your fried rice in my omelet! You got your omelet on my fried rice! That's the essence of omurice.
What you need:
4 cups of cooked sticky rice
1 chicken breast
1 onion
4 white mushrooms
4 eggs
Vegetable oil for cooking
salt, pepper and ketchup as desired
Dice the chicken, mushrooms, and onion up very small. Heat a tablespoon of vegetable oil in a deep frying pan and stir-fry the chicken for a few minutes. Then add the onion and mushrooms and stir-fry them for about five minutes. Then add the rice (and salt and pepper if you want), mix it in with everything else, and cook it some more. Let it fry for about five minutes more, then cover it and set it aside to let the flavors soak into the rice while you go on to the next step.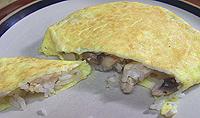 Heat another frying pan - a large one, and this one can be shallow - and grease it with vegetable oil so the omelet won't stick. Whisk a single egg, then pour it into the pan, shifting it around to get a large, round, thin omelet. If it gets very thin around the edges, that's fine. When the egg has set decently, but is not yet completely cooked through in the center, scoop some of the fried rice in. Depending on the size of your omelet, about half a cup to a full cup should do it. Fold two opposite side in and press them down on the rice, then fold the other two sides in. Alternately, just fold it in half so you end up with a half-circle. Put a plate over the omelet and turn the pan upside down to put the omurice onto the plate pretty-side-up. Repeat until you run out of rice or eggs. Serve with a dollop of ketchup on top.
This recipe I found is for 4 servings, but after 4 eggs I had plenty of filling left. I can generally get 6 to 8 servings out of one batch of filling. If you're going to pack this in a bento lunch, press the omelet down gently but firmly to compress the rice a bit, then cut it into bite-sized squares and put those into the box.
Naked omurice - The chicken-rice filling is pretty good by itself, actually. I've been told that "chicken-rice" is very popular in Japan, but I haven't found references to it myself. Anyway, you can pack this filling as if it were fried rice (which it is, actually) and eat it topped or mixed with ketchup.