Ozoni is a soup traditionally eaten on New Year's Day. There are loads of variations; this is the one I made.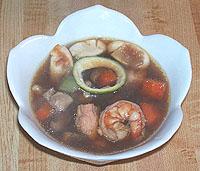 What you need:
4 dried shiitake mushrooms soaked overnight in 4 cups of water
3/4 pound of chicken thighs with bones
3/4 pounds of salmon fillet, with skin, without scales
2 tbsp of sake
2 small taro roots
2 ounces of peeled daikon
1/2 carrot, peeled
4 scallions, white part only
1 lime (or yuzu, if you have it)
2 large raw shrimp, peeled, deveined, but tail on
2 tbsp of soy sauce
8 canned ginkgo nuts
8 mochi slices
First off, I consider a few items to be optional. I skipped the daikon and ginkgo because I didn't have them on hand. The original recipe also called for mitsuba sprigs as garnish. I neither had those on hand nor am interested in garnish, so forget that! In fact, you can skip the lime for the same reason. If you can't get taro root, you can substitute red potatoes and skip the parboiling step.
So, first make the soup stock by bringing the water the shiitake were soaking in to a boil. Remove the bones from the chicken and add them to the pot, then reduce the heat to medium and simmer for 45 minutes, skimming as needed. Strain the sock into a large pot.
While the stock is simmering go on ahead with as much of the following as you can, starting with cutting the chicken and salmon into small, site-sized bits. Incidentally, if you find that the salmon you got was not scaled, then you can easily do it yourself before cutting it up. Get a short, nonserrated knife (like a fruit knife) and scrape it, blade first, against the grain of the scales. They'll come off without too much grief, and some will go flying all over your kitchen. (Er, that's what I've heard. I've never found myself in such a predicament.) Once the chicken & fish are cut up. parboil them in boiling water with a tablespoon of sake for a minute, then drain them and rinse briefly with cold water.
Peel the taro roots. I find it easiest to scrub it to remove the worst of the fuzz, then cut off both ends and draw the peeler down from the ends. Put the roots in a small pot, cover with water, add a dash of salt, then boil it for 15 minutes. Drain, rinse, and cut into dice-sized cubes. Cut the carrots and daikon (if using) the same way. Cut the stalks off the shiitake, then cut the caps into thin slices. Cut the scallions into 1 inch lengths.
Add 1 tbsp of sake to the stock and bring it back to a boil. Add the carrot, shiitake, and daikon (if using), then lower the heat to medium and simmer for 15 minutes. Then add in the chicken, salmon, taro root, and scallions. After another 5 minutes, add the soy sauce. Turn the heat down to low and add the ginkgo nuts if you have 'em.
If you have regular mochi slices, cut them in half crossways, as if you were making little mochiburgers. Toast them in a preheated broiler (I used my toaster oven), turning every minute or so until both sides are golden brown and the pieces start to puff up. (Alternately, I've used mochi chips and just microwaved them for 20 seconds to turn them chewy. I think I like that better.)
Almost done! Cut the lime into rings about 1/8" thick, one for each person you're serving. Remove the pulp, leaving only the ring. Put the mochi in the bowls, one piece per serving, pour the soup over it, then stick a lime peel ring on top. Serve immediately.