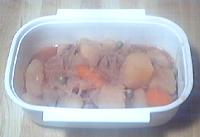 Here we have two new things. One is niku jyaga, which is primarily beef and potatoes, and the other is a new bento box. I've had this box a while, and used it for this meal because this stewlike stuff is wet and sloppy and would not work too well with my other box. It looks like a regular microwave container, but it's a bento box. It even has "Joy the happy lunch time" on the lid. You don't get Engrish on Tupperware.
It looks like I've only put a little in there, but that's only because of the camera angle and lack of scale. I've actually got it over half full, which is a hearty serving for me.
This box is microwave and freezer safe, BTW, and seals very tightly so juicy stuff inside doesn't leak. It holds an adult-sized serving, and comes with a partition you can insert or leave out. I got it it from Asian Food Grocer for $5. Excellent deal, I'd say!