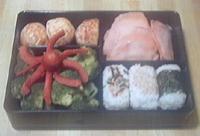 Today's box stars forest octopi, which is simply hot dogs packed in steamed broccoli so it looks like octopi in a forest. Is that poetic imagery or what? I also have real octopus in the form of takoyaki, plus rice blocks with nori, sesame seeds, and shrimp furikake, and sakura mochi (mochiko version).
When I packed the lunch both of the hot dog octopi were submerged in broccoli. I just have one posed on top here, as if on lookout, because... well, it looked cooler. So there.
By the way, if you pose the octopi on a plate, with the legs around them, holding the head upright, when you microwave them the legs will curl photogenically. I just found that out.