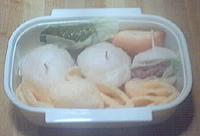 Cooking neato Japanese food is fun, but sometimes you just wanna burger and some chips, y'know?
This meal is my version of East Meets West. The main item is nanoburgers, which are little bitty hamburgers about 1.5" - 2" in diameter. I used steamed buns from a recent batch, and I thought about toasting them to give them a browned look, but I didn't get around to it. One of the burgers has cheese, one has pickles, and one just has lettuce. (When I make several things in a batch I like to have variations between them. When cooking okonomiyaki, I'll put different stuff on each one.)
Rounding out the meal I have a baby dill, wrapped in a lettuce leaf to keep it from contaminating the buns with its pickleness; an pan; and some shrimp chips. They are the puffy kind, and were a bit chewy by the time I ate 'em. Hmm, should either pack those in a little bag or use them only in dryer lunches. (I'd thought of baking some fries to go with the burgers, but I just didn't have the energy for it at the time.)
Wanna talk about it?