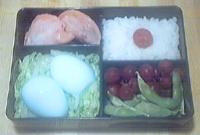 After that last box, with its oh-so-noncultural burgers & chips, I felt the need to compose something subtle and meaningful. Or, to put it another way, I got artsy-fartsy.
I started out with a cabbage-and-egg nest, which is a boiled egg, cut in half, on a bed of stir-fried cabbage. The photo colors aren't distorted; before I cut it I let it sit for a few minutes in a glass of water with a few drops of blue food coloring. The result is sort of robin's egg blue, get it? It looks like eggs in a nest.
I put in the rice next, and as you may or may not know the umeboshi (pickly thing in the center) is supposed to symbolize the rising sun of Japan. Bird's nest, rising sun. Got a theme here. After that I put in the edamame - soy beans in pods, the name of which literally means "beans on branches" and the grapes, which are for fruit that grows on trees. (Yeah, I know grapes grow on vines, not trees. This is a vine that grew on a tree, so there.) Finishing it off is a pair of sakura mochi (mochiko version), which are traditionally eaten during hanami parties, when people picnic under cherry trees to view the blossoms.
Wow. All that imagery, and it's a pretty nice color scheme and nutritional balance too. Go me.
Wanna talk about it?