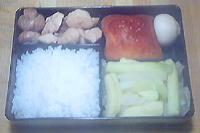 This is the first Japanese meal I've cooked with any regularity. Er, not this specific meal pictured here, but the basic assembly. I figured out how to make the stir-fried chicken, zucchini & onion stir-fry, and sauteed mushrooms by watching Benihana chefs. It was for this meal (except back then I made it with beef - chicken and shrimp were later innovations) that I sought out Nishiki rice. (Regular rice is nearly impossible to eat with chopsticks.) I've come to think of those four items as one unit, since I cook them together and the separate recipes interlock.
And in the corner, a manjuu and an pan. I'm almost done with that first big batch.
Yes, there's nothing really new here. However, the chicken is cut into bite-size pieces, the way they do in Benihana, whereas when I showed it before I had strips and big chunks. And that makes a difference. (Because I said so, that's why.)
Wanna talk about it?