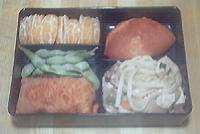 I liked last week's yakiudon, so I tried it again, this time with dried udon instead of the stuff in a ramenlike package. The dried ones beat the ramenlike ones all to heck, in my opinion. In fact, they reminded me a little of the noodles in chicken noodle soup. Anyway, this week's batch includes some different ingredients: bamboo, water chestnuts, thinly sliced beef, marinated tofu, scallion, and carrot. I meant to put some nori on as garnish but I forgot. Duh.
I've gotten a little better at rolling egg rolls, but it could still be a little tighter. This egg roll was made with fake crab meat instead of shrimp, and it came out tasty. And there's edamame, a clementine orange, and an pan (cafeteria roll variant). The last is made, you guessed it, with cafeteria roll dough instead of the an pan dough I listed, and is worth trying if you found the original recipe to be too sweet.
Wanna talk about it?