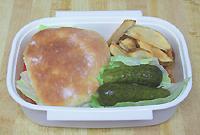 I was in the mood for something simple. And I had some bacon that I was worried was going to turn to the dark side if I didn't use it up, and potatoes that also needed my attention. So, I made a BLT (bacon, lettuce, and tomato sandwich) and baked steak fries. I made a lot of steak fries, by the way. I had a lot of potatoes.
I think it was fate that I would pack a BLT that day. I'd made some sandwich-sized buns the last time I made cafeteria rolls, and then a coworker gave me some big, ripe tomatoes that fit the buns perfectly. Add the bacon situation and it became inevitable.
I like those little baby dills. They're easier to fit in these boxes than regular pickles, and they don't leak everywhere like pickle spears. That's a bit of lettuce they're sitting on to keep them from turning the fries all pickly.
Wanna talk about it?