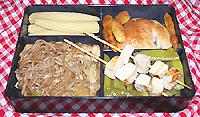 Kind of an odd picnic box. You don't usually find yakisoba and grilled tofu in a picnic.
The yakisoba... well, I don't have a lot to say about this except that it's tasty stuff and I made a lot of it. It's much like yakiudon, but the noodles have a different flavor and texture. By now I'm getting used to these stir-fried noodle dishes, so I left the measuring spoons in the drawer and just put in some o' this and some o' that. This and that being cut-up cabbage, bamboo, carrots, and tofu.
Next is the grilled tofu. It doesn't have a strong enough flavor to be a main dish, but it's a nice counterpart to the noodles. The baby corn is straight out of the can, and the steamed pole beans and an pan (cafeteria roll variant) are from recent batches. The soft pretzels swarming around the an pan... well, they're okay, but I'm going to try to get them to turn out a little better before I post a recipe. These ones ended up kinda weird. I think I may have boiled them too long.
Wanna talk about it?