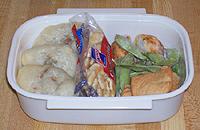 Here is my salute to grain, the bottom of the classic food pyramid. It starts with steamed beef buns. This time around I made them with hamburger and added a few drops of sesame oil to the mix. The latter surprised me by improving the flavor significantly! I've updated the recipe page.
That was the part I specifically cooked for this meal. The rest - takoyaki, edamame, oyster crackers, and sugar cookies - were either storebought or leftovers.
Wanna talk about it?