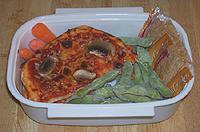 I love pizza, but the stuff you get from places like Domino's is covered with grease and soaked in calories, and makes me feel blahy afterwards, so I rarely eat it. When I found a simple recipe online that would let me control the grease and whatnot, I had to try it. The crust was supposed to be crispy, but it ended up being soft and breadlike, which I found appealing. I have a whole 6" cheese & mushroom pizza in there, cut in half and stacked.

As for the rest of the meal, got baby carrots and edamame, which I always keep on hand, and a packet of graham crackers that followed me home from a salad bar one day.

Wanna talk about it?