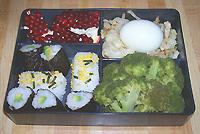 Today we have avocado maki and rice blocks with egg furikake, both from the same batch as yesterday's lunch. With that are a cabbage-and-egg nest, steamed broccoli, and some pomegranate.
I've liked pomegranate ever since I was introduced to it in a high school French class. Yes, it's a bit of work to free the seeds from the shell and pulp, but those of us who eat fried rice with chopsticks are not afraid of food that you can't shovel in. I like eating the seeds one and two at a time. Just have to be careful of the juice, however, as it can leave stains on clothing.
Wanna talk about it?