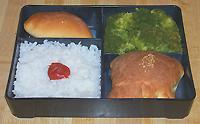 Today's meal looks like a game of foursquare, doesn't it? It includes a cow in blanket, steamed broccoli, rice with umeboshi, and an pan (cafeteria roll variant).
What is this "cow in blanket" madness? I got into a philosophical mood one day and thought that, if you can bake hot dogs in dough to make "pigs in blankets," why not do the same thing to hamburger patties? Of course, being beef, those would be cows, not pigs. And thus were the first Cows in Blankets created, and they were good. Not shown is the packet of ketchup I used as dipping sauce.
Wanna talk about it?