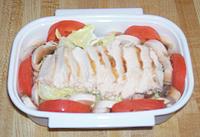 Once again I knew I was going to have a substantial dinner, so I wanted a relatively light lunch. Cue the grilled chicken salad! And this time give it a nice presentation, with the white meat sliced thin and laid out all pretty-like over the lettuce.
And then get klutzy with the camera and make the photo all blurry.
Wanna talk about it?