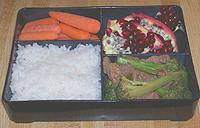 Today's lunch features beef & broccoli stir-fry, with a side order of rice, some baby carrots, and some pomegranate. I've posted the beef & broccoli before, but this time I tried something new and it came out nice, so I've updated the recipe.
Dang, wish I could think of anything clever to say about this lunch.
Wanna talk about it?