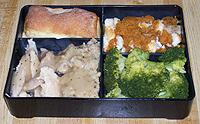 Today we begin with the first in a series of lunches based on Thanksgiving leftovers. I cooked a whole turkey all by my little self for the first time ever, and it came out tasty and juicy. And, since I took it to a potluck party and came back with less than half the meat, I didn't end up with the fearsome piles of turkey that is the bane of every Thanksgiving. I had just enough to enjoy and not enough to get sick of. So, you won't be seeing turkey this and that for the next month and a half. We can all consider that a bullet dodged.
That said, here we have roast turkey and bread stuffing with Thanksgiving aftermath gravy, steamed broccoli, a cafeteria roll, and some sweet potato casserole with marshmallows. (Sorry, no recipe for the stuffing and sweet potato - that was potluck leftovers made by other people at the party.)
Wanna talk about it?