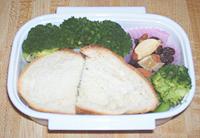 I must be out of my mind. I went by the deli counter and bought some turkey lunch meat. I still have Thanksgiving leftovers in my freezer, fer cryin' out loud! I guess that I'm turning into a turkeyholic not unlike Ralphie's father in "A Christmas Story."
Anyhow, here we have a turkey deli sandwich on homemade French bread. Around the edges I put steamed broccoli, which I know is an odd combination, but what the heck. In the corner is a paper cupcake cup filled with delicious dried fruit & nut mix from a local health food store. I'm not all into uberhealth foods, but they have some delicious mixes. almonds and raisins and papaya and pineapple and cranberry and pumpkin seeds and walnut and dates and Brazil nuts, mmm!
Wanna talk about it?