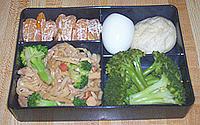 It's been a while since I made yakiudon. This batch, made with thin, flat noodles, came out especially tasty. Crunchy broccoli, stir-fried until it turned bright green; carrots; bamboo sliced into narrow strips; and... turkey. Yes, another way to sneak in Thanksgiving leftovers. I swear, I'm nearly out of them now.
With this is steamed broccoli, a boiled egg, a steamed bun, and clementine segments.
Wanna talk about it?