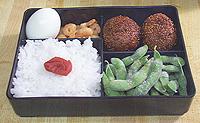 This is my last bento for the year, as I'll be on vacation from work next week. Hooray! For the occasion I've made a Chinese dim sum treat that's also popular around the Chinese New Year: sesame seed balls. They're sweetened rice flour balls with anko centers, rolled in sesame seeds and deep fried until they puff up. Yum!
And for the main part of the meal, there's marinated, stir-fried shrimp, a boiled egg, edamame, and rice with umeboshi. That's the last of the umeboshi I have, and surprisingly enough I actually developed a taste for them. I don't like them by themselves, but tearing them up with chopsticks and mixing them with the rice adds a nice tang.
Happy new year!
Wanna talk about it?