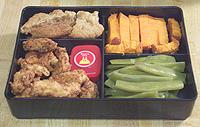 I like sweet & sour chicken. It's one of the things I always look for at a Chinese buffet. So I thought: hey, why not make some? I found quite a variety of recipes online, and tried one that looked simple and good. However, as you can see in the picture, it didn't come out all smooth like it is in restaurants. In fact, this is much more like southern fried chicken. So, I'm still looking around for a better recipe, but in the meantime this one isn't bad. It's just not sweet & sour chicken as I know it.
Also, we got steamed green beans, half a baked sweet potato, and a broken-up cookie. I got the cookie at the local deli as a reward for knowing that the nickname that Lady Di acquired during a tapped phone call was "Squidgie." Finally, some of this trivia clogging my brain proved useful!
Wanna talk about it?