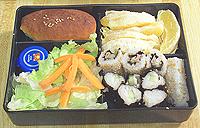 I usually microwave my lunches, but this one was put together out of stuff I wasn't going to microwave. Why? Well, I felt like packing a salad that day.
So, here we have a green salad with Benihana ginger dressing in a little container, crab & cucumber sushi, inside-out crab & cucumber sushi rolled in sesame seeds, orange segments, and an pan.
Wanna talk about it?