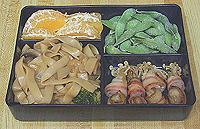 When I was at the market recently I bought more than the takuan mentioned in box 110. I also saw some neat-looking mushrooms, thought "Let's see what I can make with those," and bought a chunk. I found in one of my Japanese cookbooks a recipe for obimake enoki, which in English is bacon-wrapped enoki mushroom clusters. I had to learn how to broil to make them - hey, I did say on the front page that I never learned anything about cooking when I was growing up! - but the results were quite nice, pretty and tasty. The next time I make them I'll use bigger mushroom clusters and bacon that's less fatty.
Oh, and then there's shrimp yakiudon made with lo mein noodles, edamame, and tangelo segments.
Wanna talk about it?