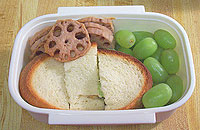 Today's meal is a grilled chicken sandwich on white mountain bread, baked lotus chips, and grapes. A while back I tried making chips out of lotus root, and the result was not so good, so I didn't post a recipe. Well, I got it on the second try, so here ya go!
Can't type more. Eating.
Wanna talk about it?