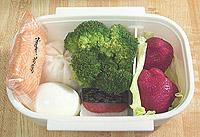 In today's lunch I packed a storebought steamed pork and vegetable bun. It's hiding under the broccoli, between it and the Bin-Bin rice crackers. I bought a batch of frozen mini buns, which you steam before eating. If you're curious about steamed bread but unsure about how to make it yourself, these might be a good item to experiment on. Anyway, the bun was okay, but I thought the filling was a bit meatloaf-ish. I'll try other kinds in the future.
And there's also a bit of Spam musubi, also hiding under the broccoli; a boiled egg, and some strawberries. Mmm.
Wanna talk about it?