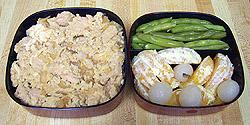 Today's main course is oyakodon, "parent and child bowl." In layman's terms that's chicken and egg over rice. Get it? You're eating chicken and egg, parent and child. Yeah, I think it's ghoulish too. It's not too beautiful to look at, but it does taste good. I plan to try tweaking the recipe a bit.
On the other hand, there's steamed green beans, orange segments, and longans.
Wanna talk about it?