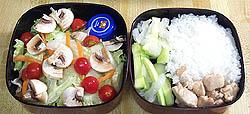 This is another iteration of my favorite Benihana-ripoff meal, which I was cooking long before I ever thought about bento lunches. Now that I have a two-tiered lunch box I can fit in a nice-sized salad as well. Which is good, as I love green salads.
So, here we have some stir-fried teriyaki chicken, zucchini & onion stir-fry, rice, and a green salad with ginger dressing. I've raved about Benihana's ginger salad dressing before, but, alas, my supply ran out. Then my sister introduced me to Naturally Fresh dressing, and although it's not quite as good as Benihana's it will do quite nicely until I can get more!
Wanna talk about it?