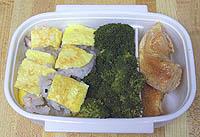 This lunch is a little sloppy. The omurice didn't want to stay together; maybe the rice was a little too wet. That would have been fine, but when I got to work I found that the ketchup I thought was available was not! Omurice is okay with salt, but ketchup would have been better. Ah well.
And then there's the old faithful steamed broccoli, and cinnamon honey pretzel bits. I acquired the latter at a party for my RHPS cast. I ordered some cinnamon honey pretzels for dessert, and they were much bigger than I expected. So, they followed me home in a box, and part of one followed me to work in my lunchbox. The pretzels were so good, BTW, that I plan to hunt down a recipe. When I do, y'all will be the first to know.
Wanna talk about it?