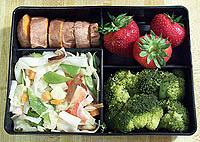 I seem to be making a lot of "quick improv" and "clean out the fridge" type lunches lately. Well, improvisation is a useful skill, and a clean fridge is never a bad thing. This time around I whipped up some yakiudon to use up the last of my snow peas and artificial crab and the end of a head of cabbage. It also includes some carrots and sliced & dried shiitake mushrooms, which I always have on hand. Eaten with soy sauce, not pictured.
And then there's some steamed broccoli, baked (non-Japanese) sweet potato, and strawberries. Yes, I know I'm repeating myself, but I like that stuff.
Wanna talk about it?