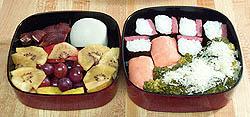 Food. Spam musubi. Smoked salmon sushi. Steamed broccoli with Spanish cheese that Maria still can't remember the name of. Daifuku. Tamarind. Fruit salad.
The fruit salad has apples, grapes, and something new to me: golden kiwi fruit. They're like regular kiwis except that the skins aren't as hairy, and, well, they're yellow inside. While cutting them I though that it looked like someone had hybridized a kiwi fruit and a banana.
Wanna talk about it?