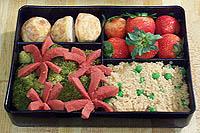 I swear, there's no limit to the things you can do with hot dogs. For example, here are some hot dog daisies with steamed broccoli, the combination of which creates a flowers-on-a-bush kinda look. Wowies. And right next to it is some couscous, which is semolina pasta in sandlike grains, and which you prepare by simply pouring hot water or stock over it and letting it sit for a few minutes. Neat, huh? I used the juice from my recent batch of iridori, and the combination is delicious. I'm going to try this next time I make niku jyaga, too.
Up top there's some takoyaki and strawberries. The strawberries are especially delicious today. Want to know why? Because, above and beyond their own natural strawberriness, they ware also free. I often get free food at Kroger, perfectly legally. I simply remember the prices of sale items and watch carefully as they're scanned at the checkout. If anything scans in at a higher price than it should, you get one of that item free because of their "Scan-Rite Guarantee." At my Kroger they're apparently pretty lax about updating prices, and the alert shopper can reap the benefit. (Unalert shoppers, however, get overcharged.)
PS: Eating couscous with chopsticks is an interesting challenge.
Wanna talk about it?