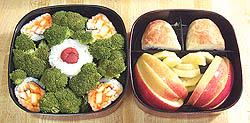 I'd planned to make hunter's stew, which I used to cook all the time and just realized I hadn't made in over a year. On the way home I was going to get a few items at the grocery store and then bust out the big pot. But then the bus that I usually catch from my office just didn't come, and I had to wait in the rain for the next one to come 45 minutes later, and of course that fouled up all my connections and I squished home an hour late, hungry and in no mood for serious cooking. So, I'll make that stew later; today I have what I threw together after drying off. Namely crab & cucumber maki with some ikura for flavor & color, an onigiri with half an umeboshi, steamed broccoli, apple slices, golden kiwi slices, and an pan.
I wasn't in the mood to do any fancy cooking, but after I'd eaten I was feeling a bit better, so I could arrange all this stuff all fancy. In fact, one might even say it was just the slightest bit artsy-fartsy.
Wanna talk about it?