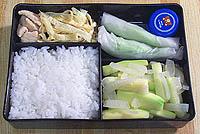 Today's lunch features most of my "Benihana tribute" meal - rice, marinated stir-fried chicken, and zucchini & onion stir-fry - plus some "noodle eggs" left over from the recent chirashi-zushi. I ought to make more noodle eggs; they're fun to make and kinda cool.
I like having salad with the Benihana meal, but if I pack salad in the lunch box I can't microwave it. Unless I wrap it up in rice paper to make salad spring rolls! The little container contains ginger salad dressing for dipping, of course.
Wanna talk about it?