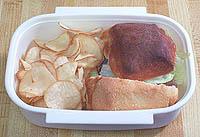 Once again, I've deviated from the ideal of a mixture of colors in each bento lunch by packing nothing but shades of brown. There's a roast beef deli sandwich on a cafeteria roll, the latter of which turned out a tad darker than usual. As the side I have off-white-shading-to-medium-brown cassava chips, which are less brittle than potato chips and seasoned differently. (Yum! Another salute to 99 Ranch Market for carrying stuff like this.) Finally, for dessert I have a piece of tan-colored almond cake, which is 1/4 of a "cupcake" I got at 99 Ranch's bakery.
I packed this while thinking about the lunches I had while working in England during Summer breaks when I was in college. There was a little place near the office where I'd go get roast beef or ham in a bun, some beef or chicken flavoured crisps (potato chips), and a Coke. Yes, I was always a health food nut. This is in the same spirit, and brings back memories.
Wanna talk about it?