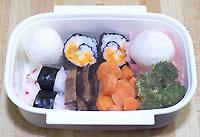 It's the end of the week, and that means it's time to use up the various little leftovers I've accumulated over the week. I've packed, clockwise from noon, a pair of crab & cucumber sushi, some Nutella-filled manjuu, steamed broccoli, steamed carrots, simmered shiitake mushrooms, a pair of nori-belted onigiri with umeboshi mixed into the rice, and a boiled egg. Hmm, not bad for a pile of leftovers. And once again I've packed a relentlessly symmetrical lunch without realizing it until afterwards.
In the closeup the egg looks weird. That's because when I took it out of the fridge to peel it, it was frozen. My refrigerator occasionally gets colder than normal, but only in certain regions; I might find only my lettuce frozen, or only the back half of a dozen eggs. I warmed the egg up a little by submerging it in warm water for a while, but it still had that rough surface. And the white was tough and rubbery, so I can't recommend it.
Wanna talk about it?