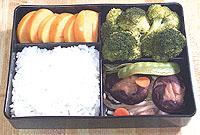 I found a real winner of a recipe! Salmon saka-mushi, which is salmon fillet steamed in a tinfoil pouch with snow peas, shiitake mushrooms, shimeji (or enoki) mushrooms, snow peas, scallions, and carrots. It's easy to make, doesn't take much time, and is delicious. If you're really artsy you can make it look like an autumn garden, so the recipe says, but as I don't hunger for fallen leaves and sticks I'll have to be satisfied with mere taste.
On the side there's the everpresent rice and steamed broccoli, and up top some slices of kaki persimmon. I'd never had persimmon before, and I'd heard they were bitter, but they sold so well at the Asian market I figured there must be something worthwhile there. Surprise, this variety of persimmon isn't bitter at all! It's sweet and mild, and the flesh is crunchy, more so than an apple. I recommend it.
Wanna talk about it?