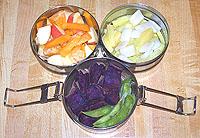 Today's lunch includes grilled squid over stir-fried zucchini, baked purple sweet potato - which was really as dark as you see in the picture, as opposed to being a product of my mad Photoshoppin' skillz - edamame, and a fruit salad with apple, orange, and persimmon. The persimmon is the part that looks like carrot sticks. Once again, I used a vegetable peeler to slice thin segments.
This is a different tiffin, with three bowls instead of four and no "frame" besides the arms attached to the bottom bowl. Let me tell you, tiffins are great conversation pieces. During my commute this morning, several people asked me if it was a lantern or something else, and were intrigued when I described it as an East Indian lunch box with separate bowls. Personally, since I carry it by its handle as opposed to wrapping it with a furoshiki, it makes me think of a Final Fantasy tonberry.
Wanna talk about it?