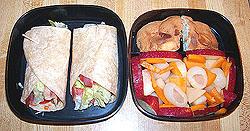 It's still post-Thanksgiving, so I'm still eating turkey. Here's BLT wrap sandwich, but it's turkey bacon. No, I didn't plan that; I just wanted a BLT, and afterwards realized that I was still eating turkey. I promise I'll move on to other sources of protein eventually. The wraps are a little fuller than strictly advisable, I suppose, so I've toothpicked them together.
On the other side is some almond cake and a a fruit salad with banana, persimmon, apple, and longans. Would you believe I found persimmons at Wal-Mart? Maybe you're not, but I sure was. Nice ripe tasty ones, too. A pity they don't have them at Kroger - but then, knowing how Kroger prices any slightly-out-of-the-norm produce, maybe it's just as well.
Wanna talk about it?