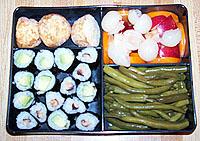 You know I'm finally out from under the pile of leftovers when I make sushi. I've been wanting to make some for a while, but somehow it just kept not happening. Well, here are some avocado maki and shiitake maki. Yum! Then there are takoyaki, steamed green beans, and a fruit salad with apple, persimmon, and longans. I packed some mayo for the takoyaki, but it's not picture here because... well, it's a leftover Chick-fil-a packet, and those aren't terribly photogenic. But waste not, want not, right?
I didn't have the time to make more elaborate sushi because yesterday was a bit too eventful for my tastes. Among the events were: my mother breaking her ankle, my TV blowing out, 6 hours of baking, a trip to 99 Ranch Market, a cast meeting, and the process of buying and installing a new TV. By the end of the day rolling a few simple maki was about as much as I could manage!
Wanna talk about it?