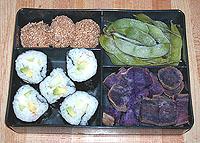 The free-form maki in this lunch look kind of pale and bland, don't they? I didn't think about it when I was rolling these, but when you have avocado, artificial crab, cucumber, and cream cheese wrapped in rice, well, there's not a lot of color there. Perhaps I should have spread some orange ikura on the rice. Still, they tasted quite good.
On the other side we have the everpresent edamame and the return of baked purple sweet potato. You'll see a lot of the latter in upcoming lunches. I bought several pounds of 'em because they're tasty, and purple food is just so freakin' cool.
Finally, I have some storebought peanut mochi balls. The last time I made them they were uber-sticky, so this time I rolled them in toasted sesame seeds, which solved the stickiness problem nicely.
Wanna talk about it?