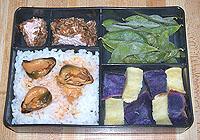 Today's lunch is sponsored by two of my coworkers. Maria, who I have mentioned before, gave me a tin of Spanish Cuca mejillones en escabeche, or tender, vinegarey mussels in olive oil. Lemme tell you, they are delicious! Here I've served them over rice, and added some extra dollops of the oil they came in so the spices can flavor the rice when I mix them up.
Of course, next come edamame, baked Japanese sweet potato, and baked purple sweet potato. There are some constants in the universe, after all. Finally, for dessert I have a few chunks of a pecan log that another coworker gave me. I'd give him or her a shout-out too, but the giver didn't sign the package!
Wanna talk about it?