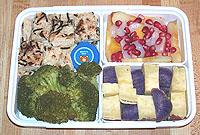 The last time I was at 99 Ranch Market I found a neat new bento box. It's modern and functional rather than traditional and decorative. The plastic is microwave and dishwasher safe, and there are three removable trays inside, making it easy to take out the bits I don't want to microwave. The cover, which locks on, is clear so... Um, I guess so you can get a preview of your lunch without opening it.
Inside this box I have packed some okonomiyaki and the appropriate sauce, broccoli without Parmesan cheese (meaning the broccoli was stir-fried in olive oil as part of that recipe, but then I forgot to put the cheese. Sheesh!), baked Japanese sweet potato, baked purple sweet potato, and a fruit salad with apple, mango, mangosteen, and pomegranate seeds.
Wanna talk about it?