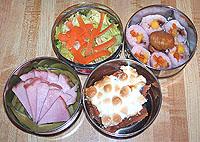 This lunch is composed of leftovers from my Xmas dinner. It starts out with thin-sliced (storebought & already cooked) ham on steamed pole beans. Then there's some of my first-ever sweet potato casserole. On the side is a green salad, and for dessert I have fruit sushi with mango, persimmon, and anko, and a pair of roasted chestnuts.
As you can see, I tried a bunch of new things at once. Surprisingly, they all turned out quite well. The chestnuts were tricky; only a few ended up as pretty as the ones in the pic. With the rest the meat either split or the lining didn't want to peel cleanly off, but, heck, they tasted fine. I found loads of sweet potato casserole recipes on the Web, so I triangulated between a few I liked the look of, and the results were just as I'd hoped. The fruit sushi were inspired by Cooking Cute, and I would have used mamenori to wrap them if any store around here carried it. The ham was a comparative copout, as I didn't actually cook it. I'll save that for a later challenge.
Wanna talk about it?