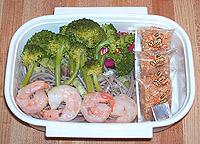 The main part of this lunch is shrimp & vegetable yakisoba, although you wouldn't know it - the soba is hiding discreetly underneath the tumbleweed-like shrimp and a forest-like stand of steamed broccoli trees. For dessert are some pumpkin cookies, which are light little granola-like blocks of sweetness, and a cube of ginger caramel.
I love making yakisoba. It's a very flexible recipe, so you can use whatever you have on hand. This batch included lots of cabbage, salad mushrooms, shiitake mushrooms, frozen peas, and medium-sized (31-40 ct.) shrimp. Yum! The broccoli is unusually long-stemmed, which suggested trees to me, hence the forest motif. I could say that the red yakisoba sauce container in the corner represents the sun peeking through the trees, but... yeah. That's how I intended it. Subconsciously.
Wanna talk about it?