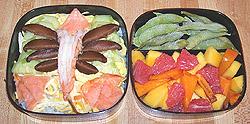 Chirashi-zushi. Man, I love this stuff. It's translated as "scattered sushi," meaning it's more like a salad than nibbly finger food. This one includes rice, nori, noodle-like strips of egg, cucumber, shiitake mushrooms, smoked salmon, and a big ol' shrimp. The shape of sliced shiitake mushrooms always suggests fans or wings to me, and from there it's a slippers slope to making artsy-fartsy things like the winged shrimp you see at right. Take warning!
On the other side is edamame, and fruit salad with mango, grapefruit, and persimmon. In fact, I hereby dub the fruit salad chirashi-kajitsu, "scattered fruit." Its color scheme reminds me of the Fruit Loops cereal of my childhood, back when it was yellow, orange, and pink. That was before all those other colors invaded it and every other sugary cereal. Things were never the same after that...
Wanna talk about it?