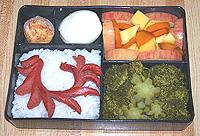 You can do more with hot dogs than make octopi with them. For instance, you can get creative with your cuts and make a mutant hot dog! Just make slices here and there and create edible abstract art. Anyway, this dog is served on a bed of rice, with steamed broccoli, a boiled egg, takoyaki, and mango, apple, and persimmon fruit salad to keep it company.
Takoyaki are handy. Need to fill space in your box, and you don't have enough room for edamame? Drop in a takoyaki or two. I keep a 50-count bag in my freezer for just such emergencies.
Wanna talk about it?